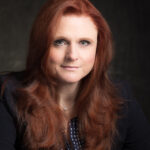 Ally Dube
President
Ally Dube is a Board Certified Behavior Analyst (BCBA) who has demonstrated proven success with the use of a creative treatment approach to challenging behaviors. Ally has 15 years of experience, both in the field and as an Autism parent, and has worked with individuals of all ages with Autism, developmental delays, and a variety of mental health conditions. Ally's experience includes working with both adults and children with a wide mix of communication abilities.
Ally co-founded Compass Innovative Behavior Strategies, a multidisciplinary behavioral health provider for individuals with Autism and other developmental disabilities, in 2015 and is the Chief Clinical Officer. Compass has quickly grown into one of the largest ABA service providers in the state of NH, with 3 clinic locations across southern NH and approximately 80 employees. Compass has been recognized several times in the local media, including #1 Fastest Growing Family-Owned Business in 2018 (#3 in 2019) and the #1 Company to Watch in 2019 (BusinessNH Magazine). In addition, Ally serves on the faculty of Antioch University as an Adjunct Professor, teaching Applied Behavior Analysis (ABA) coursework for graduate students pursuing board certification as a BCBA. Ally is particularly passionate about mentoring graduate ABA students to teach them the "real world" skills of being a behavior analyst, and also working with families to teach functional life skills. Ally also enjoys advocacy and leadership training for legal issues with autism insurance funding and reform. In her spare time, Ally enjoys spending time in nature, hiking with her husband in the Monadnock region, reading and spending time with her four cats. Ally's vision for the role of NHABA President is to create a group of unique task forces to address many areas for advancing ABA in NH, including: * Exploring pathways to the licensure of BCBAs in New Hampshire * Developing a mentoring database of NH BCBAs, classified by areas of expertise * Creating a resource library for ABA clinicians to address challenges within the field * Analyzing the barriers in NH to providing effective behavior analytic treatment to consumers * Starting a peer group for ABA business owners to address the ethical, financial, and legal challenges of starting and running an ABA service business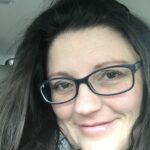 Vice President
Amy Rheaume
My main passion lies in training and supervision. What drives me is seeing the next generation of behavior analysts and behavior technicians growing and perfecting their craft as I grow as well. I have now worked for my non-profit agency for 18 years working with children from two years old to our adult population. One of my other passions is collaboration with other fields of practice. Our collaboration can only benefit our clients. Advocacy is my third passion and drives me to research insurance and education law to benefit those we serve here in NH.
Fourteen years ago, I was given the gift of my son who would later be diagnosed with Autism Spectrum Disorder. The experience of having a child with Autism has given me insight that I can apply in many different situations as I continue to advocate for the ABA community here in NH. I have been a member of NHABA since conception and have volunteered at our annual conference each year. Being a part of this organization brings me joy and longing to increase our community's presence here in NH. Background: * Masters in Special Education, Fitchburg State University * Bachelors in Social Work and Counseling, Franklin Pierce University * Licensed Applied Behavior Analyst in Massachusetts * Board Certified Behavior Analyst since 2014 * Board Certified Assistant Behavior Analyst, 2006 – 2014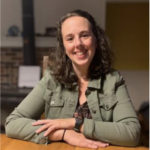 Jennilee Hogancamp
Secretary
Jennilee Hogancamp is a Board Certified Behavior Analyst (BCBA) who lives and works in the Monadnock region. Jennilee entered the field approximately 16 years ago, supporting children with complex medical and developmental needs. While assisting clients with significant communication impairments, challenging behavior, and barriers to learning, Jennilee was introduced to the principles of Applied Behavior Analysis. Her experiences have included supporting young children, adolescents, and adults with a variety of developmental disabilities. While in the field, Jennilee has worked in residential, educational, social service, and outpatient clinic settings. Currently, Jennilee provides support for children in the Monadnock region in her role as BCBA and Clinical Director for the Keene clinic location of Compass Innovative Behavior Strategies.
Jennilee prides herself as a lifelong learner and continually seeks opportunities for growth and development as a clinician. Jennilee's special interests include Verbal Behavior, practical functional assessment, and skill-based treatment. Jennilee is particularly passionate about empowering and supporting families to create meaningful outcomes. Jennilee has received training in the treatment of childhood sleep problems, selective eating, supporting parents to address emerging problem behavior, and the development of play and social skill repertoires. In her spare time, Jennilee enjoys accessing continuing education content, kayaking, hiking, and spending with her partner, her three children, and her two Saint Bernards! Jennilee's vision as a member of the NHABA executive board includes: * Identifying and addressing barriers to and disparities in service delivery in New Hampshire. *Providing meaningful behavior analytic content to families, providers, and educators through accessible continuing education events. * Supporting the organization and its members to pursue state licensure. * Examining issues related to diversity, equity, and inclusion in the NHABA community.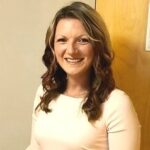 Amanda Schoenberg
Treasurer
Amanda Schoenberg is the owner of A.B.A. Behavioral Consulting in Londonderry, NH. She is a Board-Certified Behavior Analyst (BCBA) and holds a Master's degree in Education, as well as a post-graduate certification in Autism. The majority of her decade long career has been working with adults with varying disabilities, but she also has some experience working with children at an Autism treatment center. Her passion for Applied Behavior Analysis and working with adults led her to start the company in 2017. She currently manages all of the clinical and business operations for her company which has prepared her for the position as Treasurer of NHABA. Amanda is dedicated to growing and strengthening behavior analysis services for adults.
Our board is comprised of the following positions, each with a specific set of responsibilities and duties.
President
Ensure that all activities related to the operation of the Chapter are accomplished, including:
Set annual agenda and goals in collaboration with Executive Committee and members (strategic planning)
Review and update bylaws and policies and ensure compliance
Set the agenda and structure powerpoints for the quarterly and annual meetings
Ensure CE events for the Chapter Meetings
Ensure the occurrence of community outreach events
Participate in planning and hosting the annual NHABA conference
Ensure that the webpage, facebook, and other social media outlets are up-to-date and comply with policies
Respond to requests for information via the website
Represent NHABA in public forums and advocate for the mission of the Chapter
Ensure NHABA representation and ABAI and complete required Chapter paperwork and write-ups
Serve as secondary on NHABA account and ensure the integrity and transparency of all financial transactions
Ensure that position papers and public statements reflect the mission of the Chapter
Ensure compliance our 501(c)(3) status and all IRS paperwork is submitted
Vice President
Participate in Executive Committee to set annual agenda, plan events, and conduct member meetings
Assist the President with all duties as needed
Substitute for the President as needed
Participate in planning and hosting the annual conference
Along with the President, represent NHABA in public forums and advocate for the mission of the Chapter
Along with the President, ensure that position papers and public statements reflect the mission of the Chapter
Secretary
Send emails to members and conferences attendees
Send out eblasts via the BACB as necessary
Monitor NH ABA email account and respond to emails as necessary
Post announcements on Facebook as necessary
Create and send out membership verification forms
Create and send out CE certificates for chapter CE events
Take notes at NH ABA chapter meetings
Treasurer
Manage and maintain the chapters financials
Maintain and update financials spreadsheets (tracking items such as membership dues, conference registrations, and chapter-related expenses)
Provide updates about the chapters financial health at quarterly meetings (with an emphasis on financials at the annual meeting)
File the chapters taxes each year
Check the NHABA mailbox regularly and make deposits (dues, POs, sponsorships)communicate with treasurer regarding new member forms/dues
Track and log conference financials, as well as pay out for expenses and fees (speakers, venue, etc.)
Track and send invoices for conference POs and sponsorships
Create and send receipts and reimbursements for conference expenses accrued by individual members
Participate in executive committee calls and meetings for the planning and maintenance of the chapter